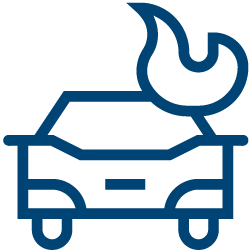 Reclamación Accidentes de Tráfico
The Traffic Accident Claim Service allows lawyers to automatically manage personal injury claims arising from traffic accidents of their clients.
This service arises as a result of the agreement signed between the Consejo General de la Abogacía Española and the Insurance Business Association (UNESPA) and TIREA, a company that develops technological solutions. It comes to provide a technical response to legal professionals so that they can work in a secure communication environment with insurers when presenting the corresponding claims on behalf of their clients.
The platform allows lawyers, from their office and previously identified with their digital certificate ACA, carry out bidirectional communications online with the Insurance Entities, expediting the claims of their clients derived from personal injuries that are the result of traffic accidents.
The platform constitutes a guarantee of the issuance and reception of all communications, automatically issuing the corresponding acknowledgments of receipt and digitally signed certificates, both for the claim made with each and every one of the documents provided, and for the receipt of the communications issued by the Insurance Entities.
Consult insurers that adhere to this service http://www.unespa.es/convenios/convenio-colaboracion-consejo-general-la-abogacia-espanola-cgae-tirea-unespa/
Service costs
From February 1, 2023, the service will be free for legal professionals. This gratuity will only affect the claims initiated and the certificates requested from said date. Therefore, the costs derived from claims and certificates initiated or requested prior to February 1, 2023 must be assumed following the usual procedure.
Technical support and help
- For incidents with the use of the application, send mail to sau.lex@tirea.es
- For incidents related to access and certificates ACA access to: https://www.abogacia.es/site/aca/ayuda/contactanos/
Advantages
More comfortable and efficient by having claims with all centralized, automated and homogenized Insurance Entities in a single site allowing the traceability of all communications.
More simplicity with an easy-to-use platform with status management and useful search criteria.
More agility by being able to communicate directly in a bidirectional way with the Insurance Entities in a service available 24 x 7.
Guaranteed Security offered by the use of a secure communication platform, with identification of the parties, which offers integrity and confidentiality in communications, complying with the duty of professional secrecy and complying with the requirements of the Data Protection Regulation of the European Union.
Legislative compliance Law 35/2015, of September 22, on the reform of the system for the assessment of damages caused to people in traffic accidents, modifies the Consolidated Text of the Law on civil liability and insurance in the circulation of vehicles to motor, approved by Legislative RD 8/2004 of October 29, establishing in its article 7.1 the obligation, prior to filing the lawsuit, to notify the insurer of the claim, requesting the corresponding compensation.
Operation of the service (video tutorials)
Learn with these videos how to access the Platform and start using the tool:
General aspects of the service
Access and signature of the service provision contract
Claim start
Management of claims initiated
Certificate request
Consultation of closed claims
Service file
File_Reclamation-traffic-accidents